When the Doctor says Oops
What happens when the Doctor Says "Oops?"
You become a Cub.
Lookie here. The Cubs get an early holiday present under their tree in 31 year old starting pitcher Scott Baker. In typical Cub fashion, the wrapping paper is a bit discheveled and the bow on the gift is a little off kilter. Scott Baker toiled on the mound for the Twins from 2005-2011 including his best year in 2009 with 33 starts, 200 IP, a 15-9 record and a WHIP of 1.190. He had Tommy John/Ulnar collateral ligament (UCL) reconstructive surgery on his elbow last April, missing the entire 2012 season. Fitting Jedstein's Modus Operandi, it's a one year deal at $5.5M with $1.5M in incentives. According to XM Radio's Jim Bowden, the Cubs have made an offer to lefty Francisco Liriano, so maybe they are just going after ex-Twins. Matt Garza should soon be tweeting: "Collect em all."
Baker was supposed to have the (quicker to recover) flexor-pronator muscle attachment repaired in his right pitching elbow (compared to Tommy John ligament reconstruction) , but there was a change of plans decided intraoperatively...
In looking up the history on Scott Baker, I saw some pre-surgery articles in April that said his elbow injury was diagnosed as a tear of the flexor-pronator muscle attachement but when his surgeon, reknown Dr. David Altchek from Hospital for Special Surgery in New York (who did former Twin, Joe Nathan's TJ surgery) opened the elbow up it was clear that Baker needed his UCL reconstructed. The flexor-pronator recovery is usually 6 months whereas the Tommy John surgery is typically felt to be longer at 12-18 months for recovery. 
An MRI taken late in spring training showed that the ulnar collateral ligament - the one that is replaced during Tommy John surgery - was sound. But Twins spokesperson Dustin Morse said that when surgeon Dr. David Altchek opened up the elbow and took a look, he decided to repair the ligament.
...and going into the April surgery, the Twins GM Terry Ryan said in  a press conference that Baker's flexor-pronator attachment surgery would just be a simple "cleanup"
Baker said this preoperatively:
"He (Dr. Altchek) said this is something that's not going to repair itself. It's not going to cure itself. It's something that needs to be taken care of. Fortunately, he said the (UCL) ligament looked great, so I guess in a way, as bad as this is, the flexor pronator tendon is what needs to be repaired. Nobody hates this more than me. So it's tough."
When asked about his Ulnar Collateral/Tommy John ligament, Baker said:
"Yeah, he said there's no need to mess with that. I haven't had any discomfort there, which is a good thing. But at the same time, what's going on right now, I just know two things: It's painful and it's affecting my ability to be effective in a major league baseball game. What do you do when that's the case? You have to get it taken care of."
A Simple Twist of Fate
Of course, the anatomy of the flexor-pronator tendon attachment and the ulnar collateral ligament attachment are so close together it's not unusual for an MRI or physical exam to be misleading. It is common practice to include in the surgical consent permission to do both procedures "just in case" this scenerio plays out. According to the Star Tribune article, if Baker had the cleanup elbow surgery with a 6 month recovery estimate, they probably would have picked up his $9.25M option on his contract and he'd still be a Twin. Then again, that's a lot of $$ for any pitcher coming off of any elbow surgery unless you're under 30 or your initials are SS (or both).
Biomechanics 101
The forearm flexors are really responsible for controlling wrist flexion but they originate just above the elbow which gives them maximal leverage. The forearm pronator muscles are responsible for forearm rotation, in the direction of going from palm up to palm down, clearly needed to put spin on the ball. The reverse direction of pronation is supination where you move the forearm to a "palm up" position. The Ulnar collateral ligament is a bit deeper but in the same general attachment area and is responsible for keeping the elbow joint on the medial or inside from opening up. The elbow joint is a complex hinge where the forearm bones (radius and ulna) and the radius bone rotates around the ulna to produce forearm rotation (pronation and supination). The hinge component involves the ulna (olecranon) and distal humerus (medial condyle) on the inside (medial) and the radius (radial head) and lateral condyle or capitellum of the humerus on the outside (lateral).
  Ulnar Collateral Ligament Origin:                               Flexor-Pronator Muscle Origin: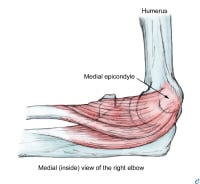 Star-Tribune author, La Velle E. Neal III, so generously offered the link to a comparable case, former Giant pitcher Russ Ortiz. Ortiz at age 32, who in 2007, went in thinking flexor-pronator and wound up with Tommy John surgery. Ortiz came back to pitch in 2009-10 but lasted only 90 innings before retiring.
There is an in-house comp. We've seen Tommy John surgery work well in Ryan Dempster. Dempster was younger at age 26 when he had the surgery in August 2003. The Reds didn't pick up his contract in November 2003 and the Cubs signed him in January 2004. Demp missed most of the 2004 season with a brief 20 inning bullpen comeback in September. He remained a Cub closer/reliever for 3 seasons and finally went back to the starting rotation in 2008. 
People as saying there is not much risk paying a starter at $5-6M. Upside: See Paul Maholm. Downside: See Russ Ortiz or Good ol' duct tape himself, Chad Fox. Nuff said.